Application process
Pre-requisites
Applicants must hold a Bachelor degree in
physics or
a relevant engineering subject.
Further specifications can be found below within the description of the application procedure.
(Consider: International students with a German first degree – Bachelor or High School – are not considered as 'International Students' but as 'Bildungsinländer')
If you want us to inform you about the start of the next application period please fill the following form.
The 2021 deadline for applications from international candidates has passed. The next application period begins in early 2022. Please visit our website again at this time for more details. A provisional list of the required documents :
Application form
Curriculum vitae
Scans of the certificates and transcripts of all academic degrees
Scan of the high school diploma or certificate of secondary school education
Proof of adequate English language skills. This can be obtained through English courses completed at secondary schoool or during university studies, experience with English speaking programmes, stays abroad or an international qualification such as Toefl or IELTS (Toefl code: 8265). Such an international qualifcation is not (!) mandatory. There is no specific threshold for English language skills, but in the recent years the minimum level of the applicants being admitted was generally approximately equivalent to IELTS 5.5 or Toefl IBT 90.
Letter of motivation
In a first step all documents can be submitted electronically. Please mind the FAQs on this page.
Timetable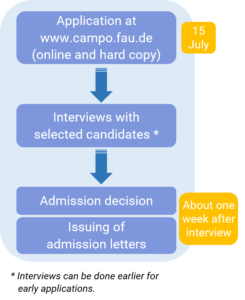 The deadline for German applicants and non-Germans with a German first degree is 15th July 2021.
German students and those applicants that fall into the category of "Bildungsinländer" (international students with a German first degree) should go to
Online Application Portal for Master's Degree Programmes
and follow the instructions on screen. They fill the online form, print out the application form and send it along with the necessary documents to the 'Masterbüro' at the adress given. After the confirmation of formal eligibility by the 'Masterbüro' your application is forwarded to the programme representatives for an academic evaluation. The applicants are then informed by the programme as to whether they are through to the interview stage and what other requirements apply, if any.
This is not possible until mid of February 2021!