Application process
Pre-requisites
Applicants must hold a Bachelor degree in
physics or
a relevant engineering subject.
Further specifications can be found below within the description of the application procedure.
(Consider: International students with a German first degree – Bachelor or High School – are not considered as 'International Students' but as 'Bildungsinländer')
Key dates and deadlines
International applicants must apply by 15th April 2021.
Between end of March and end April applicants will be informed whether they have a telephone interview or not.
Final decisions on admission will be taken around early / mid  May.
Admission letters will be sent by the Master's admission office from about June on (provided all the necessary documents have been duly submitted). This can be used for visa applications.
Stage 1: Evaluation of academic qualifications
The application for stage 1 is dealt with by academic representatives from the MAOT programme. All application documents required for stage 1 are to be submitted electronically.  No hard copies are to be sent unless explicitly requested.
Applications, including all the necessary documents as attachments (see below), are to be submitted by using the following form.
In case of technical problems please contact juergen.grossmann@fau.de. If the upload function does not work, please send your documents (one xlsx file, one pdf with maximum 10 MB) to juergen.grossmann@fau.de using the subject "MAOT Application 2021".
Applications, including all the necessary documents as attachments, are to be submitted by email to juergen.grossmann@fau.de.
(1) Application form
Completed application form (Excel file) as an excel file. Save with the file name applicationform_maot2020_pure_yourname.xlsx, i.e. use your family name instead of 'yourname'.
(2) Documents
One pdf file with documents in exactly this order:
(Mandatory) Curriculum vitae (CV) including details of school and higher education
(Mandatory) Letter of motivation (approx one A4 page) including information on the following THREE questions:
– Why do you want to study optical technologies?
– Why do you want to study in Germany and on an international, English-speaking programme.
– Why are you particularly interested in MAOT?
(Mandatory) Scans of the certificates and transcripts for all academic degrees. This must comprise the actual degree and a transcript listing all  courses attended and grades achieved (only documents in English or German, no other languages). The minimum entrance requirement is a bachelor's degree (or equivalent qualification) in physics or a relevant engineering subject.
In individual cases a bachelor's in a scientific subject other than physics may be accepted if sufficient knowledge of optical technologies can be demonstrated.
You can also apply, if you have not yet completed your previous bachelor's degree. Please submit any and all documents you may have relating to your studies (a transcript of records in particular is essential). Your chances of being admitted will not be affected by you not having completed the previous bachelor's programme.
(Mandatory) Scan of the high school diploma or certificate of secondary school education (including courses and grades).
(Mandatory) Proof of sufficient English language skills.This can be obtained through English courses done at secondary school or during university studies, experience with English speaking programmes, stays abroad, or an international qualification such as Toefl or IELTS (Toefl code: 8265). An international certificate is not (!) mandatory. There is no specific threshold for English language skills, but in the recent years the minimum level of the applicants admitted was generally approximately equivalent to IELTS 5.5 or Toefl IBT 90.(Optional) Proof of adequate German language skills. In order to matriculate at the University of Erlangen-Nürnberg students must provide proof of German language skills at the level A1. This proof can be submitted together with the application, at the time of the matriculation (September/October 2020) or within one year of matriculation
(Optional) Further documents
The accuracy with which these guidelines are followed will be considered as an indicator for the capacity of the applicant to work thoroughly.
If you have trouble to prepare or submit the documents please contact juergen.grossmann@fau.de.
File formats
The application form must be submitted as an Excel file. All other documentation should be submitted in PDF format and contained within one single file. The maximum number of files to be submitted is therefore two files: one Excel file (application form) and one PDF file containing the rest of your documents. The preferred order of the documents in the PDF-file is as follows:
CV
Letter of motivation
Transcript for most recent University degree programme
Degree from most recent University degree programme
If applicable: transcript / degree of further University degree programme
High school diploma or secondary school certificate of education
Letters of reference (if available, not mandatory for the first submission)
Other documents
The degree of precision with which these guidelines are followed will be taken as an indication of the applicant's ability to work thoroughly.
Telephone interview
Within 6-12 weeks of the email application applicants will be informed whether they have a telephone interview with one of the professors from MAOT and will be asked to submit letters of reference. Applicants who do not get a telephone interview cannot be considered for the programme. We ask you not to contact us about the status of your application but to wait until we contact you.
After the interview, a decision on whether the applicant has passed stage 1 will be made based on the quality of the other applications. No applicant should start the procedures for stage 2 until he/she has been explicitly asked to do so.
Stage 2: Formal evaluation
The second stage is dealt with by Master's Admissions office, which is part of the central administration of the FAU. This office will evaluate the applicant's certificates according to the formal requirements for admission to the university.
Details on this stage will be given to applicants after successful completion of stage 1.
This formal evaluation happens after the academic check as the rejection rate for the academic evaluation is notably higher. However, any serious problems would already be identified during the first formal check included in stage 1.
Timetable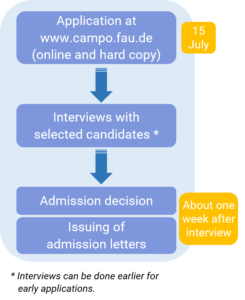 The deadline for German applicants and non-Germans with a German first degree is 15th July 2021.
German students and those applicants that fall into the category of "Bildungsinländer" (international students with a German first degree) should go to
Online Application Portal for Master's Degree Programmes
and follow the instructions on screen. They fill the online form, print out the application form and send it along with the necessary documents to the 'Masterbüro' at the adress given. After the confirmation of formal eligibility by the 'Masterbüro' your application is forwarded to the programme representatives for an academic evaluation. The applicants are then informed by the programme as to whether they are through to the interview stage and what other requirements apply, if any.
This is not possible until mid of February 2021!